From Allen, Atco and the Autoscythe through to Versatiller and Wrigley, all vintage horticultural machinery is covered by the VHGMC.
Whether you collect vintage hand tools, garden tractors, mowers, crawlers or rotavators, try for free the incredibly helpful forum or become a paid member and receive the club magazines and free insurance.
Latest News
Recently there's been an interesting forum discussion about light tractors which were used on the canal towpaths in the 1950's and 60's. There were various tractors including the Wickham tractor, David brown 2D towpath tractor and the Garner tractor. The whole thread can be found here and if anyone has any more information then please contribute. 
Horticultural equipment collectors are, in my opinion, quite good at recycling in order to keep their hobby rolling along. One only has to look at a collector's spares heap or the garage workbench with the aroma of WD40, a line of jam jars full of 'important bits' and some paper towels surreptitiously purloined from the […]
One of the pleasures, or depending on ones view it could be a fault, of any hobby is gathering up new items whether they are needed or not. For instance a model railway enthusiast may start with a single train and a loop of track one Christmas and bit by bit they end up having […]
This month our search for machinery takes us to the north-east of the UK, to be more precise it's to a now defunct chain of home improvement stores by the name of Dickens. By all accounts Dickens was a fantastic place to shop. They said that they had '…the biggest, the cheapest and the widest […]
Our latest Then & Now picture is from 1910 and features Ashton's of East Sheen. The sign in the window announcing the stock of Garden Tools & Requisites and the array of merchandise on the pavement tells us that they probably stocked everything the early 20th century gardener could want.The image is typical of many […]
Photographs and sale items of horticultural items at Tractor World Scotland 2018. Click the link below:Tractor World Scotland 2018 Report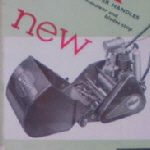 1960 is our year of choice for this article, it was the year that The Beatles was officially named and formed, the Mark 1 Mini had only just recently been introduced and in space exploration the first probe was launched to go to Mars although it failed to reach it's target. Back down on earth and […]
In April 2009 the Telegraph newspaper ran an excellent article about the VHGMC with the headline of 'Down Tools? Not these vintage gems'.The Telegraph article can be read online and can be found at: https://www.telegraph.co.uk/gardening/gardeningequipment/5124249/Vintage-garden-machinery-Down-tools-Not-these-vintage-gems.html
Humour can capture the attention of the prospective customer far easier than any serious advertising might. All from 1950 are the following four adverts for the Howard Rotavator 'Bantam'. Each is carefully crafted to highlight the difficulties of gardening that the Bantam can overcome: Digging, weeding and labour saving. The fourth advert proves that an oily […]
G.D.Mountfield of Maidenhead are well known to be associated with a large range of horticultural machinery and accordingly the company did a vast amount of advertising. Mountfield started their 'proper' marketing in 1967 after the appointment of Robinson Scotland and Partners who handled the marketing, advertising and public relations. Advertising was planned for amongst others […]